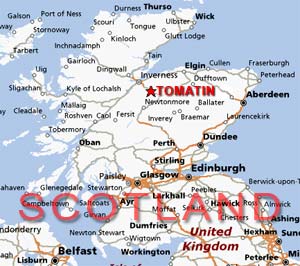 Tomatin is a small village in the highlands of Scotland, and happens to be the place Alex grew up. It is located in the north of Scotland, about 15 miles south of Inverness.
Tomatin has a population of around 1000 and is home to the largest malt whiskey distillery in the world, Tomatin Distillery. Apart from the distillery, the village has many things to offer to visitors. Tourists enjoy the beatiful local scenery, the Findhorn River provides some of the best fishing in that area, and the very active local community is attracting new residents to the village every year looking for the perfect balance of rural living not too far from business and commercial centers. Tomatin also has a thriving arts and crafts community.
The photo at the top of the page shows the Tomatin general store, or "the shop". In the background you can see one of the two specatcular railway bridges in the village area.
Here's an interesting local web site based on events happening in Tomatin: www.tomatin.org.uk